Ullswater Walks
The Ullswater area walks.
5 Easy to Follow Walks Ullswater pack 1 £2.50
Lanty's Tarn Walk
A superb circular walk up to Lanty's Tarn; a quiet haven set amidst the very picturesque Ullswater Fells. 2 - 2.5hr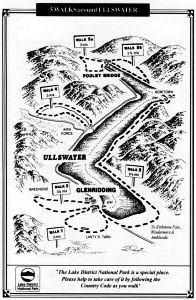 Ullswater Lake Shore Walk
One of Lakelands classic walks. Follow the very scenic lakeshore footpath, either to or from the jetty at Howtown, depending on your preference for a ferry ride before or after the walk. 3 - 4hr (not including the ferry)
Greenside Mine Walk
A popular walk up through the very dramatic Glenridding valley, to pass by the unique and secluded site of the now disused Greenside Mine. 2 - 2.5hr
Aira Force Walk
A fabulous walk through a most enchanting leafy glen, to find, in the midst of a truly magical setting, one of the most spectacular waterfalls in the Lake District. 2hr
Pooley Bridge Walk
2 Short walks that are without equal. They are both centred on Pooley Bridge, a very delightful village which nestles in the fold of the hill at a point where the impressive expanse of Ullswater narrows to become the gentle flowing waters of the River Eamont. 1.5 - 2hr
xxx
5 Easy to Follow Walks Ullswater pack 2. £2.50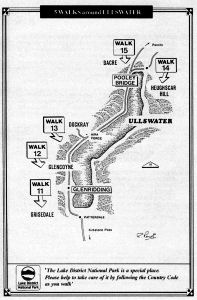 Hallin Fell
If you want to be amongst truly spectacular lake and mountain scenery, then this particular walk must rate as one of the finest in the Ullswater area. 2hr
Patterdale
This walk is sheer delight! Good going under-foot coupled with the most breathtaking views across the spectacular southern end of Ullswater. Various routes 2 - 3.5hr
Brothers Water
A chance to enjoy the unique mountain scenery thatr overlooks the very picturesque tarn of Brothers Water, with an opportunity to discover a beautiful, hidden waterfall. 2.5 - 3hr
Gowbarrow Fell
A varied and unforgettable Lakeland walk that combines a spectacular waterfall (Aira Force), with the timeless tranquility of a popular Fell. 4 - 4.5hr
Barton Fell
If your looking for a fabulous leisure walk that offers some of the best views of Ullswater - then this is it! Various routes. 2 - 3hr.
xxx
5 Easy to Follow Walks Ullswater pack 3 £2.50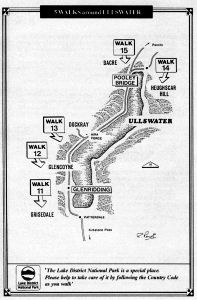 Grisedale Valley
A relaxing walk, reminiscent of an untouched land which time has almost forgot, that takes you deep into the heart of the very secluded Grisedale Valley 3.5hr
Seldom Seen
'A walk of hidden suprises' - You'll be amazed at the variety of breathtaking spectacular views along this very enchanting lakeshore and woodland walk 2hr
Dockray
If you're in the mood to appreciate a glorious mountain panorama across the length and breadth of Ullswater, then you shouldn't miss out on this superb Fell walk. 3hr
Heughscar Hill
This leisurely walk will reward you by offering one of the most outstanding landscapes in the whole of the Lake District 2.5 - 3hr
Dalemain & Dacre
A very easy and popular walk through the valley of the River Eamont, which encompasses the historic house of Dalemain and the ancient village of Dacre. 3 - 3.5h
xxx